No ha sido una mala década para el cine mundial. Al contrario, parece que los años de Bush y la contundente crisis económica mundial inspiran a los artistas a entregar mejores trabajos. Han sido diez años que empezaron con mala pata pero que poco a poco, en promedio, la calidad de los filmes lanzados en la década del 00 fue mejorando. Llegó un momento en que era entretenido ir al cine y películas como Gladiator y A Beautiful Mind fueron pasando al olvido. Pareciera que el 11 de Septiembre cambió la forma de ver las cosas no solo para los norteamiericanos sino para todo occidente. Después de Katrina y la segunda gran depresión, Estados Unidos se dió cuenta que para la próxima hay que votar con más cuidado. Al igual que elegir una película interesante para ir a ver.
Aquí están las que son las 50 mejores películas de la década del
cero-cero
.
1.
24 Hour Party People
(2002) Creo que el momento más alto ocurrió con la aparición de un director inglés brillante llamado Michael Winterbottom. su película 24 Hour Party People es una de las mejores obras de amor a la música, sin importar su género.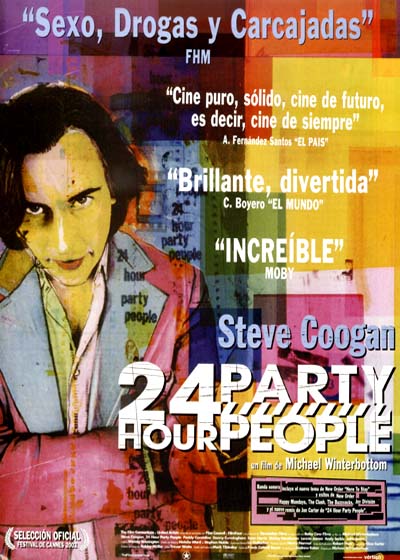 2.
La Meglio Gioventù
(2003) Una italianada de 6 horas que fue pensada como miniserie pero degeneró en espectáculo cinematográfico de primer nivel. Es imposible no enamorarse de la vida de los personajes deambulando por la Italia de mediados a fines del siglo XX.
3.
The Dark Knight
(2008) La película de Batman que he estado esperando desde 1989 o desde mucho antes. El sueño de todo fanático del Caballero Nocturno: un Guasón completamente desalmado que está a la par de un héroe en todo nivel.
4.
Beowulf
(2007)
5.
Y Tu Mamá También
(2001)
6.
Das Leben Der Anderen
(2006)
7.
El Laberinto Del Fauno
(2006) Perdió el oscar a la mejor película extranjera del 2006 ante la número 6, pero no deja de ser el mejor momento en la carrera de un director siempre prometedor, creativo y muy personal como Guillermo del Toro.
8.
Naissance Des Pieuvres
(2007) Con la globalización,
9. Grizzly Man
(2005)
10. Lust, Caution
(2007)
11. La Mala Educación (2005)
12 Finding Nemo (2003)
13 No Country For Old Men (2007)

14. Million Dollar Baby

15. Crouching Tiger, Hidden Dragon
16. A History Of Violence

17. Mulholland Dr.

18. The Host

19. 4 Months, 3 Weeks, 2 Days

20. La Vie En Rose

21. Tristram Shandy: A Cock And Bull Story

22. Hable Con Ella

23. The Constant Gardener

24. Syriana

25. Hedwig And The Angry Inch

26. Zwertböek

27. My Summer Of Love

28. Apocalypto

29. Good Night, And Good Luck

30. La Doublure

31. Dopplegang (Downfall)

32. Little Children

33. Hulk

34. Goodbye, Lenin

35. War Of The Worlds

36. Nacho Libre

37. Black Snake Moan

38. Children Of Men

39. The Dreamers

40. Napoleon Dynamite

41. One Last Thing

42. The U.S. Vs. John Lennon

43. The Barbarian Invasions

44. Broken Flowers

45. Sicko

46. Zodiac

47. Touching The Void: Documental dramatizado sobre un alpinista que casi se encuentra con la pelona en la cordillera blanca del centro del Perú. Excelente fotografía y momentos extremadamente tensos recreados.
48. Bowling For Columbine: El 11 de Septiembre inició la era de la paranoia y el realismo en el cine norteamericano, y éste documental inició la era dorada de los documentales, los cuales han ido mejorando constantemente.
49.